New Business Site – Financial Advisors (x2)
Created for a local CPA owned financial advisory company, this site was built from the ground up using our professional graphics services to keep consistent with the company's overall brand and marketing materials.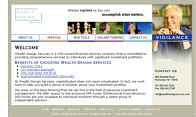 It was given a make-over a few years later to become a CMS for the group to be able to push regular updates including blog posts and events. It also serves as a financial planning portal for the group's clientele.
---
Updated Business Site (x2) – Market Research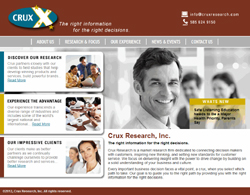 Over the years we've updated the look and feel of websites multiple times as in this example. It's always good to keep things fresh!  In this example, the latest look is from the end of 2011 (top) and the previous iteration was from 2007 (bottom).
This site was created for a local market research firm to update its presence on the web and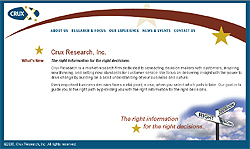 in other marketing collaterals. Logos and new look and feel were designed from the ground up by our graphics master to re-skin the image of the company. Top line navigation is accompanied by custom left hand sub-navigation for visitors to delve into deeper information about the company.
---
New Business Site – Chiropractors
This site was created from the ground up for a local chiropractic practice. They had no marketing materials and so the look and feel was a fresh creation. The goal of the site is to educate both current patients and potential patients. It also provides forms to get patients started and speed up the intake process. Content was expanded, edited, and given consistent voice by one of our fine editors.
---
Updated Business Site – Bulldog Breeder
This site was created for a bulldog hobby breeder to update their presence on the web. Completely reskinned with a red theme (the owner's fave color!) and several stock bulldog graphics. Dynamic top line navigation is accompanied by static sub-navigation for search engine enjoyment. This website has a content management back-end so that the owner can update the text in the site just by using a MS Word-like interface. The best feature about this for the breeder is that the gallery function will automatically and consistently re-size the images she uploads without the assistance of her son 😉 She can now manage the whole site on her own, no waiting!
---
Quick Tidy – Before & After
Initially this business website had a cool monotone purplish overall effect with a background image that made reading difficult with same cool toned text over it. There was no site-wide standard navigation, using instead "Back" icons on every page at the top and bottom. The pages were not size constrained so their individual look and feel could be drastically altered simply by a visitor dragging the browser window.
The revised version gave the site overall consistent navigation on every page so visitors  would have access to each page in the site from every page. No more need for a "Back" icon! The colors were warmed and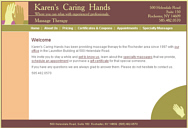 added visual interest. The 'logo' was updated to create a more welcoming feeling, replacing clipart man's hands and business suit hands. Every page became a standard width to offer more control of the layout of each page, again offering consistency. Body copy included on page white space for easy reading and font sizes were standardized across the pages. Location & contact info are now on every page in header and footer for ease of customer contact.
---
Community Service – Local Theatre
Local theatre group's website. A simple re-vamp with server-side included headers and footers to make site maintenance a breeze! Member's-only area for the group, listings for the upcoming shows and audition opportunities, along with an area for visitors to donate to this non-profit group. Also includes an extensive history gallery of past shows.
---
Community Service – Animal Rescue
Local animal rescue group website including features to a refer-a-friend, a web calendar of events, database driven pet postings with archive to see past adoptions, message board, email forms to mask email addresses to reduce spam mail, online adoption application forms, and a newsletter subscription form.
---